PUBG mobile, craziest game ever made in the history has billions of fans throughout the world and especially in India, players can die for it. The Awesome gaming experience, god level competitions, excellent graphics and enjoy leads PUBG mobile to win every gamer's heart. Every newbie in the PUBG mobile faces hurdles and problems while playing it but after some time, he/she learns to play well but still so many players get confused to choose the weapons and guns. Every weapon has its uniqueness and spirit and make them different from other. But still there are few weapons which are best in whole PUBG mobile and player fight with other players to get that weapons.
If you are also newbie or intermediator player in PUBG mobile and still confused to choose weapon and guns then read whole article till the end and I am damn sure that you will never ask anyone about what gun to choose in PUBG mobile. We have listed to top 10 best guns in PUBG mobile according to their type and availability so that you can easily understand it. So without wasting time, let's see is there your favorite in our list present or not.
Top 10 Best PUBG Guns
Assault Rifles-
M416
Also known as M4, the M416 takes first place in our list of best PUBG guns under Assault Rifle category. The M416 is getting popular nowadays due to its high fire rate, less recoil and extreme high damage. The gun can easily be available in loot crates and in buildings. Along with this, M416 supports suppressor, all scopes except 8X, foregrips, thumb grips for faster loading. Not only this but also it supports extends mag which increases bullet capacity, making it to carry 40 bullets in the gun. M416 uses 5.56 Inch ammo as its bullets usually like other PUBG guns. You can choose M416 to fire as single bullet per trigger shot or as automatic. M416 is good for short range and for long range as well. You can play around M416 with 4X and 6X scopes, make sure you have grips to gun for more stability.  As per my opinion, the M416 is the best gun to choose.
AKM
AKM is too much famous in the PUBG mobile because of its popularity in the real world known as AK47. AKM is crazy and over powered gun due its high damage. The recoil is slow and much harder to handle if you are newbie. But once you learn to play with AKM then you will love it. AKM uses 7.62 inch ammo and supports suppressor, scopes up to 6X and extended mag to extend its carrying capacity up to 40 bullets. Players prefer to use AKM without any scope as it is not stable and its fire rate is also very low as compare to other PUBG guns. AKM is great gun for short range and always keep secondary gun which is good for long range as you can face problems if you use AKM with 4X or 6X scopes. According to my own experience, AKM is good allowing you to slow down your enemy with few ammos.
SCAR-L
Players prefer to call it Scar and loved by them. When we talk about medium range fight, you should never forget about Scar. One of the best PUBG guns having good medium range ability to kill down enemies, Scar is famous for its stability and durability. Gun that uses 5.56 inch of ammo, easily spray down foes allowing you to play with all scopes up to 6X scopes. The AR suppressor will help you to use Scar without making any firing noise. You can always switch the firing mode single or auto as per your requirement. Players prefer to use scar with red dots and 2X or 3x scopes for mid-range. While talking about its more features, we would say that you can prefer Scar over AKM as it is low recoil, high stability and high fire rate. Don't mess-up with Scar! Hehe!
M16A4
One of my favorite PUBG guns and also best at its own level. Usually the newbies and intermediator players don't prefer choose M16A4 as they can't control it and don't have idea what M16A4 actually is. One burst fire will knock your enemy and easily can break level 3 vest and helmet. Don't mess with M16A4 or be ready to die.  The one of two guns which has the feature of burst fire that makes it different than other PUBG guns. You can always switch over from burst fire mode to single fire mode but you won't able to hold 8X with M16A4, apart from this, the gun don't have cons to find out. M16A4 uses 5.56 inch of ammo and also supports suppressor as well as extended mag. Play around M16A4 so that you will understand its power.
Snipers
Kar98
Also best known as Kar and Kar98, this sniper can easily knock down your enemy in one shot and able to breakdown the level vest and helmet easily. Kar98k is one of the best PUBG guns in sniper category and if you find it, never ignore it. If you are fighting with long range enemies, attack 6X or 8X and knock them out easily. The sniper reloads each bullet making it little bit slowly but a good option for long range fight. When you have sniper suppressor for Kar98k then it is over powered. Enemy will not mess up with you surely. Always lock down the enemy target and try to hit headshot for one shot kill even if your enemy have level 1 or two helmet. If you find Kar98k anywhere, pick it up and play with it by attaching 8X.
Mini14
Not like Kar98k, but one of the best option to choose Mini 14 if you don't have kar98k. The mini 14 is able to hold bunch of bullets in it allowing you to fire in row without loading each bullet unlike kar98k or AWM. It will not be great for one shot kill but couple of shot will surely spray down your enemy. You can knock down all the squad with only Mini 14 if you have good trigger finger. Mini 14 uses 5.56 inch of ammo allowing you to hold 8X and absolutely, Mini 14 is god level sniper if you know how to use it properly. You can always choose Mini 14 if you don't have any other sniper like kar98k, M24 or AWM. Try to keep another gun which is good for low and mid-range fight else enemy will kill you down in close range fight.
Air drop Guns
AWM
If you don't know about AWM then stop playing PUBG mobile. The AWM is supposed to the best gun in the game and comes under the sniper category. AWM is not one of the best PUBG guns but it is actually god level sniper and player can do everything to get AWM. The AWM can only be availed from airdrop, its ammo also can be availed from same. You get limited amount of ammo around 20 along with AWM from airdrop so think twice before every shot. AWM will down your enemies even if they are rocking with level 3 helmet or level 2 vest, AWM does not care anyone. As soon as you see airdrop, with AWM inside it, take it and run away if you don't want to miss and killed by someone.
GROZA
Groza is love for PUBG mobile lovers. I am also diehard fan of Groza because of its god level performance. When you have Groza, then don't think about any other assault rifle. AKM and DP28 will never take place of Groza. Just few shots and your enemy is down. The Spray of Groza if as killer as AWM. Groza comes under Assault rifle category and uses 7.62 inch of ammo. The sound of Groza is far good and you will love it. Groza is one of best PUBG guns to choose for middle range battle. It supports all scopes up to 6X but player prefer to use it with 2X or 3X scopes. In Classic match, Groza can only be availed from air drops whereas in Mini zone matches, it is available everywhere throughout the game.
M249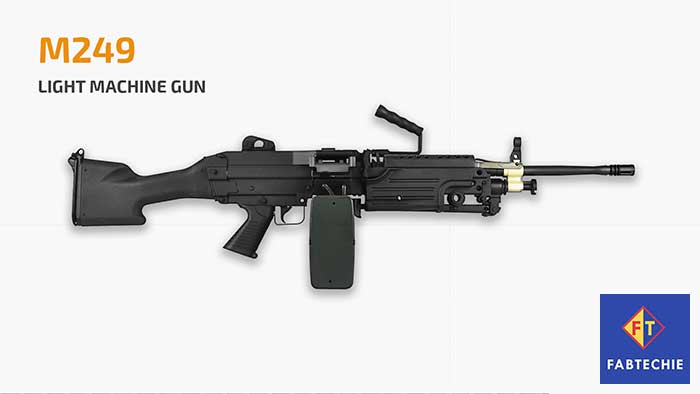 The ultimate machine gun the PUBG mobile, is one of the best PUBG guns. Comes under the machine gun category, the M249 can easily kill down whole squad without any reloading. With 100 bullets reloaded at the same time, it can easily blast any vehicle and kill down squad of 4 players. The M249 is best in the last zone as you can't guess how many players are there near you and reloading the gun will definitely be the reason to kill you by your enemy.  You 2X for better practice and always keep it fully loaded incase if whole squad attacks on you. The fire rate of M249 is amazing but the reloading time will surely bore you.
MK14 EBR
Mark 14 Enhanced Battle Rifle, best known as MK throughout the game. The only gun that supports the 8X scope with auto fire mode, the MK14 is over powered for close range battles. Holding 8X scope does not make any sense as it is highly unstable. High fire rate and extreme damage made it so famous in gaming community. Coming across the Mk14 will not be good deal and its spray will easily knock your enemy down. I suggest you to keep assault rifle with MK14 for mid-range battles as reloading it will be the biggest problem you have to face with. The MK14 uses 7.62 inch of ammo which is available everywhere in the game. If you find MK14 instead of Groza and AWM, pick it up as it is best alternatives for them.
Conclusion
Here we have listed out top 10 best PUBG guns according to their category and availability. Give a try to each of them and share your thoughts with us. Personally I am big fan of PUBG Mobile and I am addicted with it. The list of best PUBG guns are made by our team and not from officially PUBG mobile. You can try any weapon in the PUBG mobile and feel free to share with us your experience.
Check out Pubg season 10 update here- PUBG Mobile Season 10 update coming soon